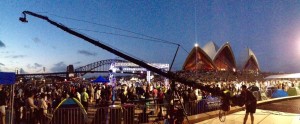 I am a cameraman and editor based in Sydney, Australia. I have worked on a wide variety of shows in pretty much every genre you can think of – drama, documentary, reality, music, light entertainment, sports. These days I am often to be found operating a remote camera crane, but I love nothing more than chucking a camera on my shoulder and roaming, so long as I'm creating pictures. Recently I have taken on the role of editor as well, further tuning those pictures into stories.
In the 1990s I worked as a stagehand at Channel 7 in Sydney, becoming a camera assistant, and later a grip, working on in house dramas such as Home and Away and All Saints. I also received some camera training. In 2001 I moved to London UK for a couple of years, and continued working as a grip on feature films, commercials, music videos and television. I also moved towards more camera operating, working on some BBC productions as an assistant and second camera.
It was while working on a low budget feature in London that I met Amber, who would become my partner and eventually wife! In 2003 we both moved back to Australia, and I continued gripping on features, commercials, dramas, music videos etc. I also began moving more seriously towards camera operating, mostly for television. For three years I combined with the legendary Sydney television cameraman Craig Watkins, operating a TechnoJib telescopic camera crane for the first three Masterchef series, as well as assisting him on a huge variety of reality TV, lifestyle, sports, commercials etc. By the fourth series of Masterchef with Craig's encouragement I became a camera operator, often specialising in Jimmy Jib cranes as well as the Techno, building on my previous experience as a grip.
In the last few years I have worked mostly as a cameraman and director of photography, and with Amber have begun producing boutique video packages, from pre-production, to shooting, editing and delivery.
 View Ben Porteous's profile